According to Hubspot, over 40% of sales leaders leveraging sales automation expect to exceed their quotas this year. Additionally, 61% of businesses using sales automation exceeded their revenue targets in 2020.
These stats make a strong case for salesforce crm automation (SFA). However, there's an enormous gap between what sales managers expect from SFA solutions and what they actually get. 
Let's bust some myths regarding SFA tools, so you can set realistic expectations.
What Is Sales Automation Software and Its Importance?
Sales force automation software is a tool that streamlines your sales process. It automates several redundant tasks, like sending emails, managing sales pipelines, scheduling appointments, data entry, and more.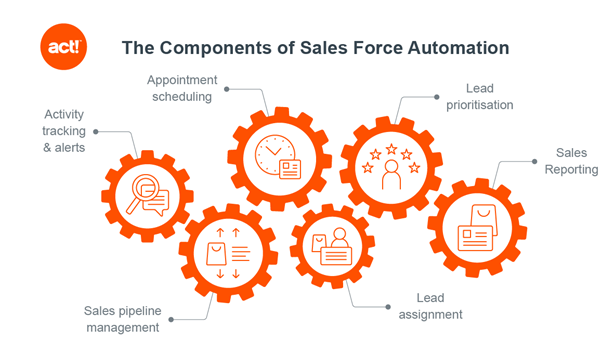 Leverage smart sales forecasts to predict future demand and opportunities

Enable sales reps to respond to incoming calls and queries quickly

Reduce resource wastage and cut down operational expenses

Boost employee performance, engagement, and retention

Get more sales and improve your bottom line
Sales Management Software Expectations vs Reality
Sales force automation tools have many benefits. They automate mundane tasks, generate accurate forecasts, reduce costs, and transform your business into an efficient sales-generating machine.
But is it really a fairy tale, or should you expect bottlenecks? Here's what reality looks like.
Expectation 1: SFA Software Is the Only Software I Need
When looking for a sales management solution, managers often search for all-in-one solutions that fix all their sales issues. They expect to get a one-stop system that creates sales forecasts, manages pipelines, creates landing pages, manages customer relationships, and more.
Reality: While the sales management software you implement is the backbone of your sales, hardly any solution will cover all your requirements. And that's okay. Even though several multi-functional SFA tools are available, it's impossible to find a system that takes care of all your sales management requirements. 
HubSpot is a great example. HubSpot CRM + SFA is one of the most feature-rich SFA systems with built-in CRM capabilities. But it lacks some key SFA features like order management and distributor management, despite being a combination of two tools.
Therefore, sales managers should stop chasing the perfect all-in-one solution and instead add a combination of tools to their tech arsenal.
Expectation 2: Implement SFA Software and Start Using it Immediately
You'll come across some SFA vendors claiming to offer out-of-the-box and ready-to-use sales force automation software. Such solutions are a fantasy. 
Reality: Though some sales force automation tools may have plug-and-play functionality, the usability of most solutions will depend on your current marketing technology stack. A few tools require minimal configuration, but some degree of manual work is still needed. If you're expecting to just log in, press a few buttons, and start getting sales, you're setting yourself up for disappointment.
Also, if you use other tools, you'll need to integrate the sales management software with them. To reduce the set-up time, evaluate your integrations carefully and find a sales management system that integrates seamlessly with your current tech stack.
Training is another cause for the delay. When you implement new software, you'll need to train your employees to use it, which could take a few weeks. 
So, when adopting a new sales tool, expect some disruption in daily operations. It's crucial to plan the implementation and transition properly.
Expectation 3: I'll See the Future with Sales Forecasts
Sales forecasting is a key feature of sales force automation systems. Sales forecasts can help you predict future trends and capitalize upon upcoming opportunities. With sales forecasts, you can see the future.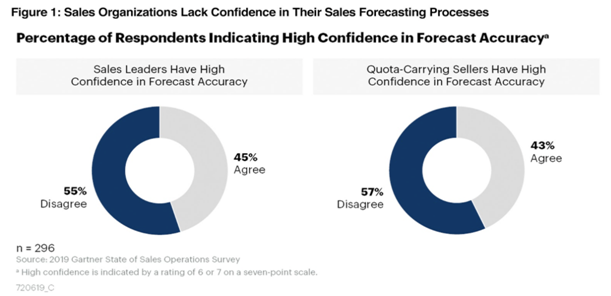 Reality: Sales forecasts aren't always so accurate. Upland Software surveyed over 200 companies and found that sales forecasts are less than 75% accurate. And they're entirely worthless if the margins to measure success and failure are less than 25%.
Does that mean you shouldn't use sales forecasting? No. But it certainly means sales managers shouldn't be overly optimistic about the forecasts. 
This brings us to another myth about sales automation and forecasting — technologies like Artificial Intelligence (AI) and Machine Learning (ML) generate accurate forecasts. They have become buzzwords in the sales and marketing space. 
AI and ML can surely increase your forecasting accuracy and help you make better decisions. But sales managers must understand that these tools learn from what you feed them. The work they do, including the forecasts they generate, depends entirely on the data you enter into them. 
So, while sales forecasts and technologies like AI can enhance your sales process, don't expect groundbreaking changes.
Expectation 4: There'll be so much Free Time
Probably the biggest fantasy associated with sales force automation applications is the abundance of free time. SFA systems streamline mundane tasks like sales forecasting, appointment scheduling, and data entry, saving reps hours daily. That doesn't essentially mean there'll be more free time.
Reality: SFA automates administrative tasks, so sales reps can invest that time in revenue-generating activities. Sales managers shouldn't expect their teams to be self-sufficient. The agents will still need sales training to become proficient sellers. 
Once they're on board, they'll need months of assistance to become productive. And once they start contributing to company goals, they'll need constant recognition from you to keep performing. In fact, 76% of employees quit due to lack of appreciation, according to Lifeworks.
So, after implementing SFA software, a lot of free time is a myth.

Final Word
Sales automation tools are a mandatory addition to every sales team. These solutions streamline various administrative processes, enabling sales teams to be efficient and productive. However, a sales force management app isn't a magic bullet, and it has its limitations. To leverage it properly and generate value, you need to understand its true capabilities. 
Please follow and like us: